Why do you need to learn SEO?
Search Engine Optimization also known as SEO among Internet marketer around the world is a common practice to gain quality traffic from the search engines such as Google, Yahoo, Bing, MSN and many more. The better your website being 'optimized', the higher your website will be ranked on search engines which also mean that your website will be highly visible to the people who search the keyword.
SEO Optimized -> Highly Visible -> More Visitors
In simple words, more visitors equal to more money!
The reason why people are so crazy about SEO is because it generate free traffic. Instead of paying Google hundreds or even thousands of dollars per month on paid advertisement, you will be making money without having to spend money. How awesome is that?
Let me give you an example. Let's say you want to target the keyword for 'hotel in helsinki finland'. Like I said earlier, there are 2 types: SEO Optimized and Paid Ads. As you can see below, the first 3 listing are the paid ones but the next 3 at the bottom are SEO optimized website: -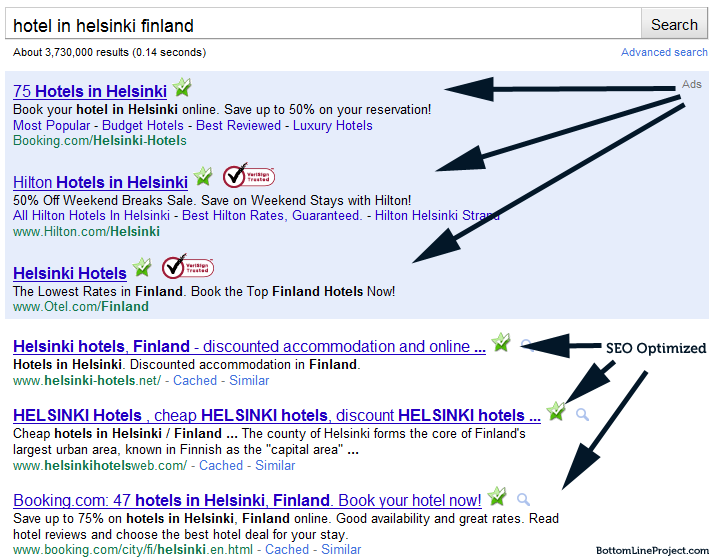 I know you might say, "Hey, it's not at the top of the list"
You're absolutely right but which one do you prefer, someone clicks on the link and you have to pay $1.00 for each click or the one that is 100% free?
Believe it or not, I don't like to click on the paid advertisement and I know lots of people who are doing the same thing too. The reason is very simple, most Internet users are looking for information and they want something that is 'relevance' and they don't like when someone is trying to sell them something. So, they will skip the paid advertisements and most likely ended up at the first or second optimized website.
The easiest way to hakukoneoptimointi your website is to purchase a domain that is exactly as the keyword. In the example above, you can see the website URL contained the word Helsinki hotels which is really close to the keywords but if you can get a domain like hotelinhelsinkifinland.com or other TLD (.net, .org, etc), you are most likely to end up at the top of the search engine.
Of course most of the domain that directly targeted the keyword is already taken but in the next article, I will teach you how you can do get higher rank even if your domain name has nothing to do with the keyword. So please stay tuned for more information later.